Fashion Finds For Curvy Girls
I am asked quite frequently why don't I offer fashion ideas for the Curvy Girls, so I decided to pull together a "What's Trending From The Loft" for our fabulous women with curves. Fashion has come along ways since I first started way back in the 90's in the Fashion Industry. More options are being offered, there are Boutiques and Stores that cater to women over size 14 and I think that's GREAT!! I never understood why "society" would always stick a model in a picture that was a Size 0, knowing that girl was starving herself! I remember going to a Fashion Conference in the early 90's and the average size woman was a size 14, (and today in 2018, over 68% of women are a size 14 or more) so why weren't companies targeting that demographic? If this is your average size woman, then the industry was doing an injustice to their clients.
Today, things have changed and for the better! I see more companies offering clothes that are trending and I see their profits going up as a result. I did a little homework and what I found out, companies that targeted average women with average models saw their profits rise over 20% in 2015. Companies that photoshopped their models were actually down 70% over a year ago. What does this tell us? We want regular looking models and clothes that are trending and fashionable for the average woman in the US.
"There's an opportunity to get to customers that are underserved instead of marketing based on an idealized image."
So let's see what I found!! This is all from The Loft Outlet and right now they are having a SALE of 40% – 60% OFF, you get an extra 10% OFF if you use the code HAPPYFALL when checking out. The only links provided afre straight to The Loft Outlet website if you want to look at the items further or look to see what the have in.
I absolutely loved this top, not only for the sleeve detail, but that color!! I can see this with jeans and booties – too cute, not to post!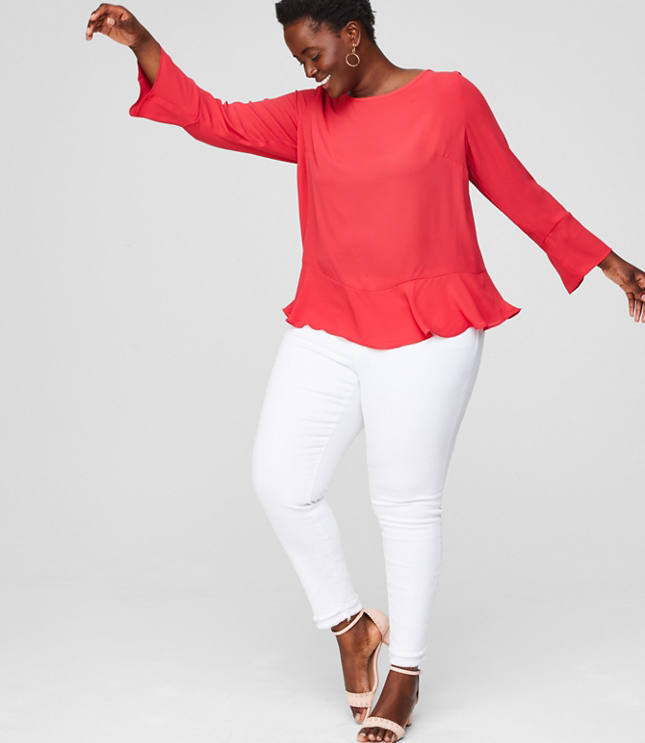 I can't leave out dresses and I found this cute one that would look so pretty with a cardigan. This can be transitioned over into the Fall with boots also. Its a Button Downed Pocket Flare Dress.
I picked this top out because I have one similar to it and I wear that top all the time. It's light and wears good, I can wear it alone or with a cardigan – a regular cardigan or a longer one – it's a perfect top for work or play.
I know you girls know I LOVE off the shoulder tops and they are all the rage right now. These will still be popluar for Fall, and really throughout the entire year. You want to dress up for a special occasion? Off the Shoulder tops seem to take your look up a notch. So, I picked this Off The Shoulder Striped Sweater. This is GORGEOUS!!!!!!!!!!! I love the sleeve detail and the way it hangs, it's just plum cute!
And if you're going out, you are going to need a cute denim jacket to go with all these cute tops. One that never goes out of style is the classic denim. If you don't have a Denim Jacket in your arsenal, you are mising out! These days you can wear the denim jacket with a dress and booties, denim on denim, with skirts, really the posibilities are endless!
Want some cute pants for work? These drawstring pants are perfect for work and right on into date night! Can you see these with a cute jacket (denim jacket above) and some cute shooties or booties? Maybe the denim jacket isn't your style and you like a short blazer, or a long cardigan…anything can go with these and look cute!
And what about this Tie Waisted Henley Dress, boots, jacket- there are a variety of ways to wear a dress or top that is sleeveless or short sleeved through the Fall and Winter.
What about accessories? Can't end this post without showing a few pieces that are hot and trending right now! Tassels are huge right now, earrings, necklaces, even putting tassel charms on your bracelet is big! You can mix and match colors, metals, pearls with jeans, it realy doesn't matter. Showing your style and uniqueness is where it's all at!
How many times have you seen a T-shirt that says Mama Bear, Mom Boss? I love those and I bet you do too, how about a necklace that has been personalized?
Bringing up the rear is the cutest pair of earrings, I think I have ever seen! Tassels, dangling, big earrings are everywhere right now. These are cute and can go with an every day outfit all the way to a "night out" outfit.
Hope you girls liked the items that I found, and I want to thank you for taking time to visit my blog! If you like these ideas, leave a comment below. I'd love to hear from you! Rememebr to take time to smell the roses ladies!! xoxo
Beverly
DON'T MISS A POST!
Subscribe to get email updates! In addition to my most recent blog posts, you'll receive exclusive newsletter content like special sales, my newest favorite finds, and an occasional peek behind the scenes — all delivered right to your inbox.
This post contains affiliate links. When you shop through my links, it helps support my business (at no additional cost to you) so thank you!